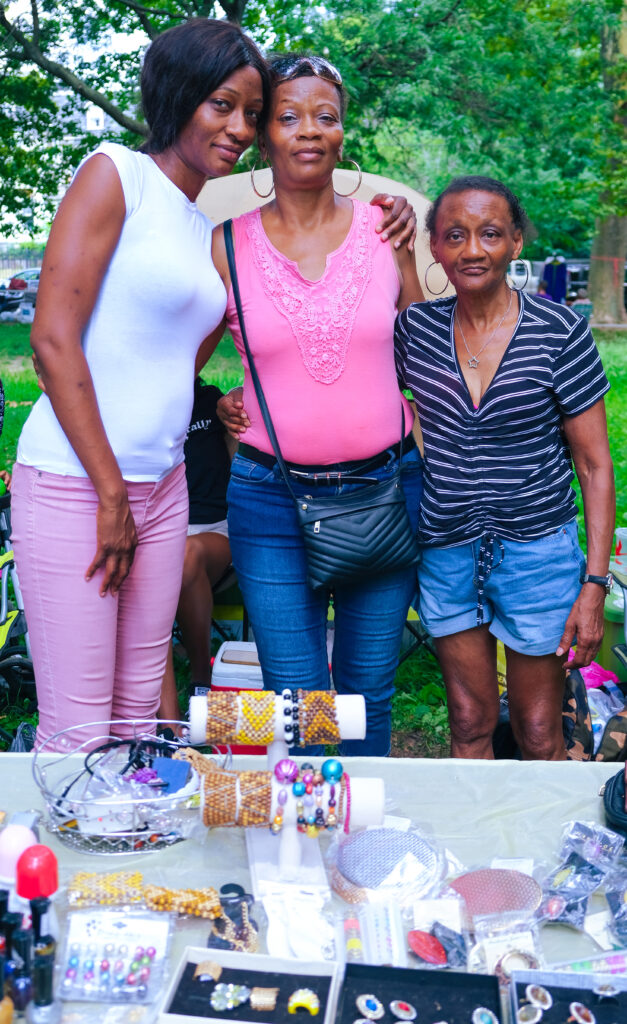 Uhuru Health Festival
The African People's Education & Defense Fund is organizing the Uhuru Health Festival as part of our work to carry out our organizational mission:
"To institutionalize and develop programs to defend the human and civil rights of the African community and to address the grave disparities in education, health and economic development faced by the African community."
Health is essential to life. Yet in the U.S., the world's richest country, African people suffer from an epidemic of curable diseases and reduced life expectancy rates.
This comes from the toxic mix of the lack of quality, affordable health services, wide-spread environmental pollution, unavailability of affordable, healthy food, substandard housing and under-funded schools.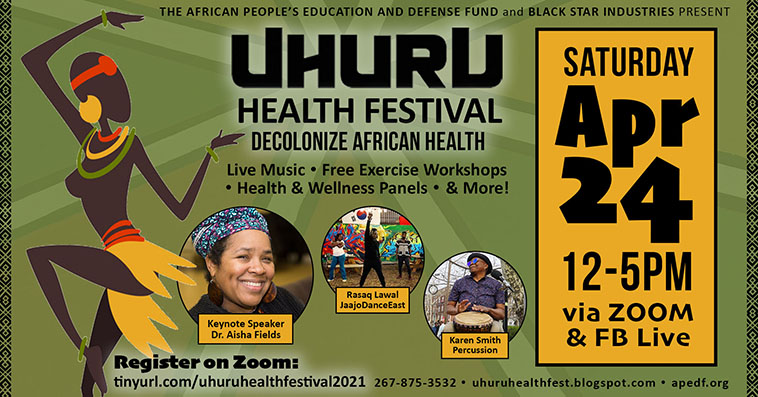 We experience daily the discriminatory policies of the police including mass imprisonment of young Africans – especially young men of child bearing age – which disrupts community life and tears families apart, and the pervasive lack of genuine economic development in African communities resulting in the serious ongoing stress of poverty.
The African community in Philadelphia suffers some of the harshest conditions in the U.S.
Philadelphia has the highest rate of poverty of any major U.S. city with 40% of the black population living below the poverty line. Pennsylvania's First Congressional District, which includes areas of North, South and West Philadelphia, has the 2nd highest rate of hunger in the US. Almost half the families with children in these neighborhoods are daily without enough food to eat.
Unemployment rates are sky-high. According to the Philadelphia Daily News, "Most unemployed black men in their 30s, 40s and 50s will never work again." For young black men, unemployment is as high as 75%.
In a city with five major hospital systems, the rate of infant death in Philly is comparable to some of the most impoverished countries in the world. Sixty-six percent of infant deaths are of black babies. The AIDS rate in Philadelphia is five times that of the U.S. rate, and 69% of all newly diagnosed AIDS cases in Philadelphia are black men.
Densely populated areas of North and West Philadelphia do not have access to large grocery stores– this alone produces a lower life expectancy.
All these conditions are preventable and unsustainable. No city can be healthy when huge sectors of the population live in these conditions. We believe it is in all of our interest to solve these problems!
APEDF is building community-based solutions that have a lasting positive impact and continually build towards a vision of self-reliance in the African community. We are committed to growing APEDF programs in Philadelphia and are calling on you to join in changing these unsustainable conditions
Uhuru Health Festival & Flea Market is a step towards building a collective, on-going APEDF African Community Health program that this community needs to transform our health. There is room for everyone to participate!
One Africa! One Nation! Uhuru Book Fair
One Africa! One Nation! Uhuru Book Fair & Flea Market (UBFFM) is an education and economic development project of the African People's Education and Defense Fund (APEDF) and Black Star Industries, supporting programs for education, health, sustainable economic development, and self-determination by and for the African community.
UBFFM is a free all-day festival in West Philadelphia's Clark Park featuring poetry, spoken word, authors & their books, special activities for children, music, food, and vendors! Free education resources will be available throughout the day to address adult literacy, English as a Second Language (ESL), and the community-wide lack of access to reading materials and education resources.

APEDF has been hosting festivals and flea markets in Clark Park for 17 years and counting! We have partnered with many other nonprofits, service & community organizations, businesses, performers, speakers, vendors, and shoppers alike. With strong support from the West Philadelphia community, we are planning our next book fair to be a memorable and empowering day for the community!

In Philadelphia – a city where the majority of people are African and Puerto Rican – over 40% of residents do not have a high school diploma. This leads to unemployment, poverty, lack of job opportunities, lower wages for families, and even leads to shorter life expectancy. Philadelphia schools are underfunded by $1.35 billion. In 2012-13, despite an overwhelming community outcry, the city of Philadelphia closed 30 black-community schools.At the same time, they cut back on school nurses and other services, which further undermined the educational progress of the city's 142,000 school children and their families.

APEDF and our many partners are committed to building community-based solutions that have a lasting, positive impact on the education, health, and economic development of our community. We know the solution will only come from the community ourselves, by building our own programs for self-reliance in the African community.

Everyone is needed to get involved in this critical community focused work!
.